Valentin Sherstiuk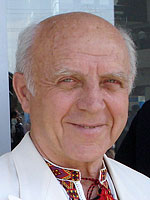 Deputy Director of Publishing and Printing Institute of NTUU "KPI" for International Cooperation, Doctor of Chemistry, Professor, Academic of the Ukrainian Technological Academy.
Disciplines: The Fundamentals of Photochemical in Printing and Publishing, Introduction to the Specialty, The Fundamentals of Printing and Publishing Technologies, The fundamentals of Lightning Engineering, The Fundamentals of Photo and Copying Processes.
Has graduated from the Kyiv Polytechnic Institute, Department of Chemical Engineering in 1963.

Scientific Road
In 1966 had completed his post graduate studies with PhD thesis titled "Synthesis of 2-alkoksi-3,4-dyhidropyran and pyridine derivatives based on them" in specialty "Organic Chemistry", engineer and junior research fellow at the department of technology chemicals. Since 1969 had worked in the industry in branch printing related institutes as senior scientific officer, head of photo-polymer's department . In 1973-1995 worked in the Institute of Physical Chemistry named after L. Pisarzhevskiy as senior scientific officer. In 1976 was awarded with academic rank of senior scientific officer. After defending doctoral thesis themed "Photochemical initiation of polymerization and registration systems environments" (1985) by specialty "Physical Chemistry" had became the senior research fellow. Since 1989 has became part-time professor of the Department. In 1993 was awarded with academic rank of professor. In 1995-1996 worked as Deputy Director for Science of the Ukrainian Institute of Special Printing. Since 1996 - Professor of the Department.
Research interests: Photochemistry and Photo Technology, Physical and Chemical Principles of Printing Production Processes, Nano-systems and Nanotechnology in Printing and Packaging .
Contacts:
Phone: (380 44) 406 84 23
E-mail: This email address is being protected from spambots. You need JavaScript enabled to view it.