Valentina Stepanetz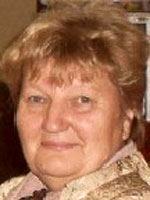 PhD, Associated Professor
Disciplines: Theory of Color, Technology of Bindings Processes, Publication Design and Typography, Printing Products Quality Management, Globalization Process in Publishing and Printing.
Graduated from the Ukrainian Printing Institute named after Ivan Fedorov in 1978.
Worked in Kyiv's branch of Research Institute of complex problems in printing engineer in the laboratory of transferable images as seniot scientific officer and later head of laboratory flexographic printing, senior scientific officer in the laboratory of special printing, senior scientific officer of marketing, laboratory adhesives and adhesive materials.
In 1991 has defended PhD thesis. Since 1994 is associate professor of the Department.
Creative interests:
adhesives for the printing industry;
flexographic printing processes and materials;
printing color reproduction;
quality management of printed products.
Contacts:
Phone: (044) 406-80-26
e-mail: This email address is being protected from spambots. You need JavaScript enabled to view it.