Oksana Lototska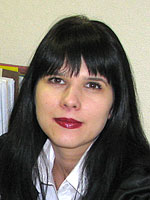 Ms. Oksana Lototska – Ph.D., Assistant Professor of Printing Production. She is a graduate of Mechanical Engineering Institute NTUU "KPI", and now is a full-time Deputy Director for Educational Work with students. 
She came to the Department of Printing Production as an engineer in 2003 and later, in 2006, was enrolled as a PhD student at the Institute. While studying in graduate school, she was a lecturer, was working as an assistant, senior lecturer, associate professor. In 2012, she defended her thesis under the supervision of Prof. Petro Kyrychok on the following topic "Complex technology of micro-relief on the surfaces of cylindrical parts of printing machines" and received a degree of Candidate of Technical Sciences, specialty 05.05.01 - Machines and Printing Production Processes. 
The main theme of her research is the improvement of the quality and performance properties of parts of printing machines using surface-plastic deformation of combining different chemical recovery methods. Currently, her work is underway on the development of this area, the practical use of the results. The research results are published in more than 40 scientific papers.
In 2008, she was attending courses run by Handwerkskammer Bildungszentrum (HBZ, m. Muenster, Germany) and the Print Media Academy (m. Heidelberg, Germany).
It is needed to note, that Ms. Lototska has always wanted to teach children, and later to teach at the University. She enjoys team, in which she operates and likes to talk with students. She was one of those engines, who launched the second higher education and training to Publishing and Printing Industry.
She is teaching special subjects, reads lectures, and conducts practical and laboratory work for almost 7 years. 
Courses are taught:
- Technology souvenirs;
- Ergonomics;
- Organization of data;
- The technology of electronic publications;
- Processes machining printing machines, and;
- Information Technology.
Contacts:
This email address is being protected from spambots. You need JavaScript enabled to view it.
This email address is being protected from spambots. You need JavaScript enabled to view it.