Andrii Morozov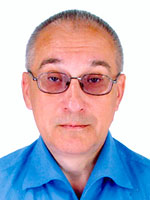 PhD, Associated Professor
Disciplines: General Materials Science, Printing and Publishing Materials, Printing and Publishing Technologies
Graduated from Dnieprodzerzhinsky Industrial Institute named after M. Arsenychev in 1981. Had been post graduate student from 1982 to 1985 with Institute of Materials Academy of Sciences of Ukraine, there defended his PhD thesis titled "Development of production materials technologies from metal chips with current electricity by baking" in 1992.
Main research areas includes development of new technologies for production of metallic pigments to improve printing processes, physical and chemical properties of metallic stabilize colloidal solutions of printing supplies, their aggregate and kinetic stability, structure and properties of metallic paint film.
Has finished several chapters of the doctoral thesis titled "Resource technology for metallic pigments from chip waste ferrous alloys to improve printing processes" (specialty 05.05.01- Machines and printing production processes).
Contacts:
е-mail : This email address is being protected from spambots. You need JavaScript enabled to view it.